Reef Maxx Bio Pellet Reactor Complete Kit
$119.99
Designed to be easy to use, setup and maintain. Our reactors are not only easy to use, no annoying thumb screws, foam pads or leaky lids common with other reactors.MPN#bioreactorcomplete#
Description
Introducing Reef Maxx High Flow Bio Pellet Reactor Complete kit
Product Details

Designed to be easy to use, setup and maintain. Our reactors are not only easy to use, no annoying thumb screws, foam pads or leaky lids common with other reactors. This Complete Kit includes 450ml of Dr. Tim's NP-Active Pearls Bio Pellets to service up to 160 gallon aquarium and a Maxi-Jet 1200 Multi-Use Water pump.
Product Features
Heavy duty all plastic construction.

Heavy Duty Aluminum Bracket

High quality quick connect fittings.

Easy to operate, clean and maintain.

1/2″ fittings and ports throughout to reduce head pressure and provide ample flow rates.

Includes 450ml of Dr. Tim's NP-Active Pearls Bio Pellets

Includes

Maxi-Jet 1200

Includes

Maxi Jet Adapter

Includes

5 feet 1/2 tubing

Tested to 200 gallon application – recommended for use on aquariums 160 gallons or less.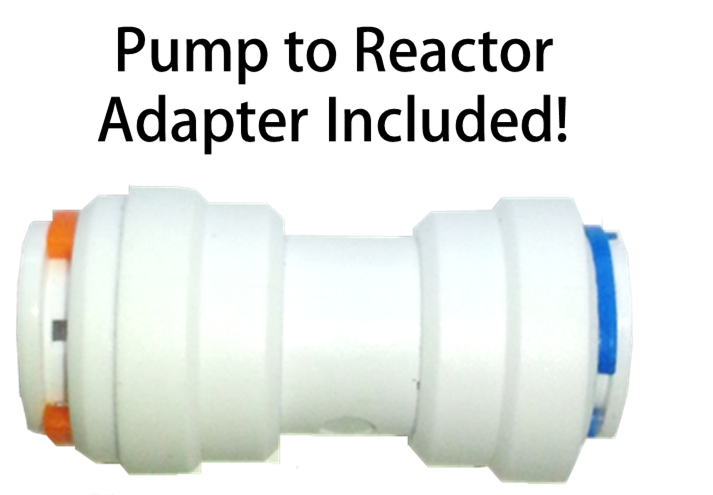 Installation Instructions

1.Unscrew clear housing

2.Fill with Bio-Pellets.

3.Insert tube while wiggling to move pellets out of the way.

4.If unit binds while tightening unit. Shake lightly to clear pellets from bottom screen. Forcing may damage screen.

5.Hook up supply to the side labeled OUT on the housing. Hook up return to IN on the housing.

General Notes:

NP-Active Pearls should be placed in a reactor so that they are constantly turning and oxygenated. It may take 2 to 4 weeks for the Pearls to become covered with beneficial bacteria.* A good protein skimmer is strongly recommended for best results as this will effectively remove much of the bacteria biomass produced by the Pearls. Do not let the Pearls become static as this may result in anaerobic conditions and the possible production of hydrogen sulfide. If this happens, remove the Pearls from the reactor, gently rinse the Pearls, clean the reactor and restart the Pearls.

Directions:

NP-Active Pearls should be used at a rate of 3 ml of Pearls gallon of aquaria water (1/4 cup NP-Active Pearls per 20 gallons of water). However, when first starting with Pearls, use 1 ml per gallon and add more Pearls over the first month. NP-Active Pearls will be consumed over time and will need to be replenished. Do not wait until the reactor is empty of Pearls before adding more.
Additional information
| | |
| --- | --- |
| Weight | 10 lbs |
| Dimensions | 12 × 10 × 1 in |