100 Gallons Per Day
Reef Aquarium Filter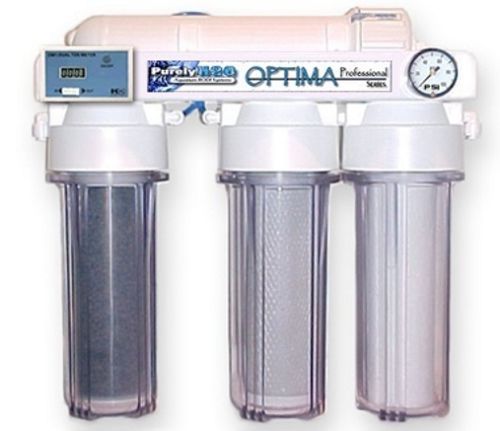 Our 100 gpd 4 stage Aquarium system is the first of our professional series aquarium reverse osmosis line. 
This powerful system includes all of the vital stages needed to produce zero TDS water for your aquarium. 
It includes a 1 micron sediment reduction filter and a 1 micron chlorine removal filter to protect the 
powerful 100 gpd HIGH FLOW membrane. The final stage of this system is a 10 inch Deionization chamber 
that will render your water zero conductive, Guaranteed! or your money back! 
NOW INCLUDES PRESSURE GAUGE AND HM DIGITAL TDS METER AND FLUSH KIT VALVE!
SPECIFICALLY DESIGNED FOR REEF AQUARIUMS
Stage 1: 1 micron sediment filter
Stage 2: 1 micron solid carbon block
Stage 3: 100 gpd HIGH FLOW  membrane
Stage 4: 10 inch refillable DI chamber
Made in the U.S.A
Pre-Assembled
Portable RO/DI System
Removes 99.9% of Water Contaminates
MBD-20 medical grade DI Filter
High-Rejection 100 gallons per day NSF certified RO membrane
Color coded tubing
Pressure gauge
Dual TDS meter
Membrane flush valve
All clear filter housings
rust resistant aluminum mounting bracket
Standard size filters
1 micron sediment
1 micron carbon
2 connection choices (hose bib and faucet adapter)
detailed installation and maintenance Manual
All clear filter housings
White membrane housing
Faucet or hosebib adapter
30 feet of polyethylene tubing
PSI tested up to 150 psi Non Cycle
Shipping dimensions 16″ x 10″ x 16″
Detailed instruction manual
All filters pre loaded
Free flush kit
3 year warranty
14-day satisfaction guarantee
Full customer support before, during and after the sale!